Hatch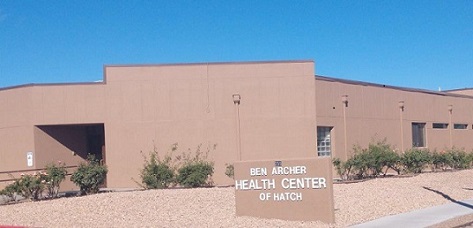 Services include medical, dental and behavioral health care to all ages. No patient is denied services due to inability to pay.
HOURS OF OPERATION:
Monday, Wednesday and Friday - 8:00 A.M. - 5:00 P.M.
Tuesday and Thursday - 8:00 A.M. - 7:00 P.M.
ADMINISTRATIVE HOURS:
Monday - Friday 8:00 A.M. - 5:00 P.M.

site contact information | staff
The Ben Archer Health Center (BAHC) is currently a non-profit 501(c) 3 corporation. Ben Archer Health Center is a network of eleven community centers providing primary health and dental care to local residents distributed throughout Southern New Mexico. The center has a distinguished history of services to the communities in the Hatch Valley. In July 1969, interested citizens of the Hatch area and project promoters formulated and implemented a plan to conduct medical examinations at the Hatch Valley High School Building. These early efforts by the concerned citizens of the Hatch area have led to the present modern and fully equipped health center that provides a range of primary medical and dental services and health education. In 1982, the facility was renamed Ben Archer Health Center of Hatch in honor of Mr. Ben Archer, whose efforts contributed significantly to the establishment of the health center.
The Ben Archer Health Center was re-accredited by the Joint Commission on Accreditation of Healthcare Organizations (JCAHO) in July of 2016 for providing quality health services.
The licensed centers are staffed with Board Certified Family Practice Physicians, Nurse Practitioners, Physician Assistants, Psychiatrist, Child Psychiatrist, Psychologist, Clinical Nurse Specialist, Registered Nurses, Schedulers, Medical Assistants, Social Workers and Eligibility Determination Specialists.
The primary care clinics for the medically indigent and medically under served provide a range of health care services which include primary medical, dental and behavioral health care, health education, transportation, referral services to physicians and hospitals, limited laboratory services, x-ray and eligibility determination for assistance programs.
All Ben Archer Health Centers have drug storage rooms where BAHC patients can fill their prescriptions at a discount rate. Both the Dona Ana and Las Cruces sites have a full service pharmacy.
Ben Archer Health Center provides a full scope of outpatient family practice medical services, which include perinatal and family, emergency medical treatment, disease screening and control, immunizations and other medical support services.
Comprehensive dental services are offered and are coordinated with medical services at all sites. Services include: general family dentistry; limited: oral surgery, orthodontics, endodontics, periodontics, and prostodontics. Pediatric Dental services are being offered at the Alamogordo and Las Cruces sites. Behavioral Health services are offered at most sites that include individual, family and groups therapy that is coordinated with medical services.
Administrative Staff
Executive Director
Mary Alice Garay
Chief Financial Officer
Rebecca Olivas
Chief Operating Officer
Angela Townsend
Medical Director
Raquel Neeley, MD
Dental Director
Wendy Lara, DDS
Hatch Staff
The staff at this site consists of: an Office Manager, 5 Medical Providers, 3 Dental Providers,
1 Behavioral Health Provider, and Administration offices.